Nightwish, Lapland, and winter.
Those were the 3 reasons why I wanted to learn Finnish.
Okay, I don't actually love winter, but who can resist a photo of Finland in all its snowy glory?
Despite it being a childhood dream of mine, I never actually got around to studying Finnish because I always had so many other target languages that I was studying or maintaining.
So when I signed up for Language Jam this year and found out that I was going to be able to dabble in Finnish for 3 days, I was ecstatic.
So ecstatic, in fact, that I decided to turn my 3-day dabble into a week-long Finnish learning challenge.
To top it off, I tested my newly-acquired Finnish skills in a recorded Skype conversation with Finnish speaker and polyglot Stefano from linguaEpassione.
If you're interested in seeing how that conversation went as well as the journey leading up to it, check out the video I released on my channel.
But what resources does one use when attempting to learn Finnish in 3 days or in a week? Well, actually, much the same as the resources I would recommend for anyone learning Finnish.
Check out how I learned Finnish online during my 1-week challenge!
Finnish Language Learning Courses & Programs
Online courses and programs were among my primary methods for learning Finnish in a short amount of time. Online courses offer relatively short and easy-to-understand explanations of grammar and vocabulary, and beginner courses are particularly good at doing this.
The first thing I did when I began Language Jam was sign up for FinnishPod101. I have previous experience using Innovative Language (the creators of FinnishPod101) through my use of their AfrikaansPod101 product for learning Afrikaans, so I already knew this would be worth the $1 I paid for the 1-month premium promotion upon signing up.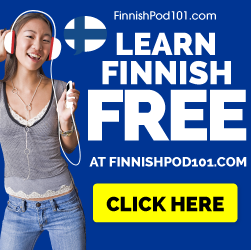 FinnishPod101 is structured like a traditional course. In the "Absolute Beginners" course that I followed, there are 34 lessons, 10 practice assessments, and over 5 hours of audio and video to supplement the course. The lessons focus on beginner topics such as introducing yourself, describing your family and immediate surroundings and grammar topics such as Finnish cases. Best of all, this course aligns with the A1 level of the Common European Framework of Reference for Languages (CEFR).
Best of all, besides the fact that FinnishPod101 is a great online learning program in and of itself, there is also a lot of free content available to Finnish learners on their YouTube channel.
Before starting Finnish, I have used LingQ extensively to learn and maintain 5 languages: French, German, Italian, Danish, and Russian. When I discovered that LingQ offered Finnish, I jumped right on! By the end of the week, I had grown my LingQ vocabulary to over 200 words.
In my opinion, LingQ is one of the best all-around apps for learning a language. Its immersive approach combines reading and listening with in-app vocabulary, grammar, and pronunciation practice. As you read along to the lessons, you can click on any word that is unknown to you and get an automatic translation. From there, unknown words turn into LingQs that are then converted into flashcards that can be reviewed regularly.
I used LingQ to upload native Finnish content that I was finding in other Finnish learning resources (see below), and most of the in-app lessons have authentic, native corresponding audio so you can listen along as you read.
This is the first time I used Mango Languages because I was able to get it for free with my library card due to the covid-19 coronavirus crisis.
Despite this, I was pleasantly surprised. Mango Language's strengths are that it features slow and clear native Finnish audio and that it focuses on only the most important vocabulary for helping you learn to communicate in Finnish fast.
The course is set up in mostly a flashcard and Spaced Repetition System format. Each lesson starts with a dialogue between two Finnish speakers, and then new words are introduced related to the topic. After recalling the meanings and translations of these words, they transition into the "Review" feature that learners can access daily.
There are 4 units with 5 chapters in each, and each chapter contains 5 lessons. The four main units tackle the topics "People", "Traveling", "Leisure", and "Here and There". There is also a free translation tool included for Finnish to English and vice versa.
Another course I used to learn Finnish in a week is Supisuomea. Supisuomea means "Real Finnish" is an online video course aimed at foreigners coming to Finland and beginners. It revolves around a 12-episode video series revolving around various beginner topics such as introducing and describing oneself, everyday life, and Finnish geography. Each video is accompanied with detailed grammar and vocabulary explanations.
The only catch?
Well, it's completely in Finnish. But don't despair: there are glossaries available in English (as well as other languages), and in a pinch, you could always mass-translate a grammar explanation using that free Mango Languages translation tool.
If you get comfortable with this immersion-style online learning, this course is definitely worth the effort. It is incredibly detailed, and each lesson includes a video transcript as well as practice exercises.
Less of a course and more of an all-around Finnish resource, I didn't get the chance to use this website to its full potential, but I did love what I used.
In short, Uusi Kielemme (Our New Language) is an extensive grammar and vocabulary resource. They offer detailed explanations on almost every imaginable grammar topic, and they host over 50 vocabulary lists for learning new Finnish words.
New articles are being added to the website regularly, and Patreon supporters get access to exclusive materials such as games and special lessons.
Finnish Textbooks
In addition to online courses, I spent a lot of time using Finnish textbooks. While I don't typically follow textbooks chronologically for learning a language, I use them as a way to access good native content, grammatical explanations, and practice exercises.
The day I logged onto Language Jam and found out that I was going to be studying Finnish, I had planned to go to a used bookstore in Gordon's Bay (near Cape Town), South Africa. I had only really intended to by Afrikaans novels to haul them back home for self-study, but then I stumbled upon this textbook for Finnish for 24 South African rand (about $1.30 USD).
Of course I bought it.
And then I loved it.
It is everything I could have asked for in a beginner Finnish textbook: dialogue-based with ample vocabulary and not too heavy on the grammatical explanations. Each of its chapters focuses on a specific topic, and there are plenty of practice exercises.
Furthermore, the appendixes at the end of the textbook offer short grammar tables for case declinations and verb conjugations.
While the book I got was pretty old (published in 1993), the same author released a
new version of this Teach Yourself gem in 2010 called "Complete Finnish", and I imagine it is also spectacular.
I didn't get the chance to use this book, but I have used "Danish Tutor", a book in the same series by Teach Yourself.
This book is for more developed learners of Finnish. On the cover of the book, it touts for being for "advanced beginner to upper intermediate" learners of Finnish.
Quite frankly, while this book looked amazing, I just wasn't going to reach the advanced beginner level of Finnish within a week. The lessons, however, focus on common grammar and vocabulary topics, and the exercises look extensive. I can't wait to use this book in the future if I continue with Finnish.
Dictionaries & Grammar Resources
This is a collection of the reference websites I used when I couldn't find quick answers to grammar or translation questions in the online course or textbook material.
This was the standard online dictionary that I used for Finnish to English translation and vice versa. I like that this dictionary gives you all the translations that a word can have in either language. Also, this dictionary gives Finnish audio for each word. It's a little robotic, but it gets the job done.
Forvo is an audio dictionary that I use in the study almost all of my languages. While translations for words are available, I mostly used Forvo to hear native pronunciation of Finnish words in question. In fact, in some entries, there are recordings of the same word by multiple speakers.
Forvo also has lists of common Finnish words and expressions on various topics such as places, the human body and shopping, all with corresponding native audio!
When it came to in-depth Finnish grammar, I used the Finnish Wiktionary and this Wikipedia article for a quick reference to Finnish cases. For Wiktionary in particular, I was able to look up a Finnish word in the nominative case and find all of its declinations in other cases.
In the same way I wanted a quick reference for nouns and case declinations, I used Cooljugator (and its cool alligator!) for a quick reference to verbs. I simply entered an English word, a Finnish verb in the infinitive or a Finnish conjugated form and got a complete list of all that verb's conjugations in ever Finnish tense.
A Peek at My Language Learning Notebook
While it was a whirlwind of a week, I'm proud of all the progress I've made in Finnish, and I know I'll definitely be continuing with Finnish in the future! In the meantime, check out some of the notes I took during this 1-week challenge, and leave me a comment about Finnish resources that you recommend!
This slideshow requires JavaScript.
**Please note that I receive a small commission from certain affiliate links in this post.**