What does every beginner Afrikaans learner need in their tool kit?
Why, a good beginner textbook, of course!
In addition to online resources such as apps, online tutorials, and video lessons, a good beginner textbook, whether in print or digital, is essential for anyone who wants to learn Afrikaans.
Beginner Afrikaans textbooks offer you a window into the language in a safe, easily-digestible way. They teach you the most common and most essential vocabulary, meaning that you learn the most important words first, and the grammar explanations focus on what is most important: communication and understanding. Not memorizing grammar rules.
Not to mention, the opportunity for practice exercises and the immediate feedback of answer keys is invaluable to your Afrikaans journey.
But enough about the benefits: let's get you a good beginner Afrikaans textbook to build that strong base in the language!
"Teach Yourself Afrikaans" by H Van Schalkwyk (2012) was the first textbook I used when I began to learn the language.
In its short 320 pages, it covers all the bases for beginner learners: useful vocabulary for everyday life and common conversation topics as well as a thorough overview of Afrikaans grammar.
Best of all, "Teach Yourself Afrikaans" is one of the cheapest options for an Afrikaans textbook. While its print version costs around $65.00, it is available on Kindle at a fraction of that price.
The lessons themselves revolve around real-world dialogues and readings as well as grammar explanations in plain language followed by exercises for practicing reading comprehension and grammar points. In just 20 short chapters, you can take your Afrikaans from zero to the intermediate level in no time.
Trust me: that's how I did it!
---
---
Well, in a sense, yes.
Believe it or not, as time has advanced, so has the process of studying Afrikaans. In fact, this iteration of "Teach Yourself Afrikaans" was published first in 2005, and it is currently only available in print form, which is lucky for you if you prefer physical books over digital copies.
Remember how I said the 2012 version of "Teach Yourself Afrikaans" was available for $65.00? Well, this one can be purchased and in your mailbox for a little less than $7.00. Now, that's a deal!
While this book is older, it stays true to the nature of the "Teach Yourself" series. The vocabulary is relevant, the grammatical explanations are concise, and the exercises allow you to practice the most useful language constructions.
Differences from the 2012 version are mostly aesthetic: this book looks older because it is older. Other than that (as well as different dialogues and readings), this textbook is definitely a timeless resource for learning Afrikaans.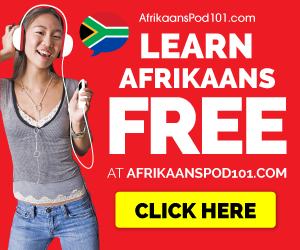 If you've used YouTube to dabble or learn Afrikaans, chances are you've watched a video produced by Innovative Language.
Or should I call them by their more well-known name AfrikaansPod101?
In short, AfrikaansPod101 is one of the most comprehensive ways to learn Afrikaans online. Their digital platform includes four levels of lessons for those looking to learn the language. Lessons are based on an audio podcast or video lesson, and a targeted language learning trajectory allows you to learn the most common vocabulary as well as grammar topics.
As such, you can buy the first 25 lessons that make up the beginner level of the AfrikaansPod101 program as an audiobook. That means that you can access over 2.5 hours of Afrikaans audio lessons and practice with a 90+ page PDF. This is perfect for learners who want to learn Afrikaans on-the-go.
Did I mention you can get this textbook for free with an Audible Trial?
The "Complete Afrikaans Beginner to Intermediate Book and Audio Course" is perhaps the most comprehensive textbook in this list. It was developed by the "Teach Yourself" brand and includes 320 pages of authentic Afrikaans, vocabulary lists and grammar explanations. It also comes with 2 CDs of native Afrikaans audio.
Best of all, this textbook claims to take learners to the B2 level (high intermediate) by end of course. This would be a great option for those who want to learn Afrikaans quickly and see meaningful results.
The 17 chapters revolve around dialogues to introduce grammar concepts and useful vocabulary. Comprehension and grammar exercises are also built-in for added practice. Furthermore, the audio CDs can apparently also be bought separately.
Another highly recommended textbook for beginner learners is "Colloquial Afrikaans". Learners can buy a physical copy or download a digital copy for Kindle.
Unlike previous textbooks, "Colloquial Afrikaans" includes audio CDs or free mp3 downloads of its content. This is quite useful for hearing what Afrikaans actually sounds like and practice precise pronunciation.
Further, after working through the textbook's 17 chapters, "Colloquial Afrikaans" offers learners appendixes with grammar summaries and an Afrikaans-English glossary for easy access and quick refreshers.
Best of all, if you're interested in only the audio portion of this textbook, you can buy the two 60-minute CD combo separately.
50 Languages is a language learning app that does just what its name describes: it teaches 50 languages!
Among those 50 languages, it offers a comprehensive vocabulary-based course for Afrikaans. In combination with its spectacular lists of Afrikaans words with native audio, the app uses games and tests to improve vocabulary recall and gets you moving words from your short-term to long-term memory.
As a textbook, "Afrikaans for Beginners" uses the phrasebook format to teach thousands of the most common vocabulary words and phrases. While there aren't any in-text exercises for learners to complete, in conjunction with the 50 Languages app, the sentence mining potential and the prospect of learning a large amount of vocabulary in a short time makes this textbook worth it.
Over its 100 chapters, "Afrikaans for Beginners" extensively covers topics such as school, work, and daily life as well as grammar constructions such as subordinate clauses and the genitive case.
If you're looking for a completely free beginner's textbook, I have the solution for you!
I personally have used "Maskew Miller's Grammar of Afrikaans" for vocabulary building, and it's not a bad resource to use if you don't want to splurge on a paid option.
The only catch? this textbook is pretty old. In fact, it was published in 1921 as a way "to supply the long-felt want of some kind of guide to the study of Afrikaans".
Those were the authors' words, not mine.
As such, some of the words included in this textbook are outdated and out of use, but it has fantastic descriptions of Afrikaans grammar and usage. Not to mention, it has a very detailed looked at Afrikaans spelling and pronunciation as well as extensive translation exercises.
And trust me, I mean extensive.
"Maskew Miller's Grammar of Afrikaans" really has stood the test of time!
**Please note that I receive a small commission from certain affiliate links in this post.**
https://www.amazon.com/gp/product/1640185615?ie=UTF8&tag=goetheverlag-20