So, you wanna learn Afrikaans online, huh?
Welcome to the language of one of the most beautiful regions of the world: Southern Africa. See the header image for this post? I took that in the Western Cape, and trust me, my camera did not do that province any justice.
Besides, even if you're not blown away by the landscape, Afrikaans is spoken by more than 10 million people and it is the language of biltong (South African beef jerky), vetkoek (deep-fried dough with meat and veggies) and the infamous South African braai (basically a BBQ on steroids).
Even on its own, the language is something to admire. Afrikaners have a humor like no other, and speakers of Germanic languages such as German and English find something pleasantly familiar about the language.
And did I mention that Afrikaans and Dutch are mutually intelligible?
With Afrikaans, however, there is just one small problem… and that is the relatively small amount of language learning material to learn Afrikaans online in comparison to other languages such as French, Spanish or Japanese. However, just because Afrikaans tools and resources are difficult to find, it doesn't mean they don't exist.
In fact, I have compiled a list of the 21 best tools for learning Afrikaans online to get you started!
Programs for Learning Afrikaans Online
Online programs and structured courses are a great way to start learning a language, especially Afrikaans where the direction may not seem clear. Given the relatively low number of programs and courses for learning Afrikaans, I recommend these two!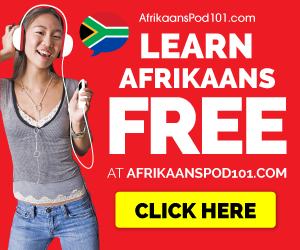 AfrikaansPod101 is hands-down the most extensive program for learning Afrikaans. For starters, there are 4 levels from "Absolute Beginner" to "Advanced" to support you at each stage of your Afrikaans learning journey.
Each stage is comprised of dozens of "pathways"—essentially collections of audio and video lessons. A typical lesson in the for absolute beginners starts with a typical conversation or spoken segment in Afrikaans and then breaks down the grammar and vocabulary of what was said in the spoken segment. Each lesson also includes an English and Afrikaans transcription as well as detailed vocabulary and grammar notes.
Other pathways in each level include listening comprehensions, reading comprehensions, culture courses and courses focused on specific topics such as daily life, survival phrases and pronunciation.
For advanced learners, you can also benefit from AfrikaansPod101's "Advanced Audio Blogs". These lessons are short podcasts that focus on a particular topic and are completely in Afrikaans. Not to fear, however: there are transcripts for following along!
AfrikaansPod101 also has flashcards to reinforce learned words, a built-in dictionary, a "Word of the Day' feature, and a list of the 2000 most common Afrikaans words. Some plans also include a personalized teacher!
Transparent Language Afrikaans is actually a language program that is used by US government offices such as the US military. As such, their program for learning foreign languages is robust, well-researched, and results-oriented.
Self-guided lessons with Transparent Language focus on the four main areas of language learning: reading, writing, listening, and speaking. Each lesson focuses on a particular topic and allows learners to practice these four skills as well as seamlessly integrate grammar and new vocabulary. Transparent Language uses typing activities, native audio and even a feature called EveryVoice (speech recognition technology) to get you using and understanding Afrikaans from the first day.
Further, Transparent Language allows learners to choose their own learning path and obtain a certificate of completion at the end of the journey.
Beginner Afrikaans Textbooks
If you're like me, a good textbook is a fantastic way to begin any language learning journey. These textbooks should include authentic Afrikaans texts, concise grammar explanations, and opportunities for learners to apply what they've learned through comprehension and grammar exercises. These beginner textbooks include just that!
"Teach Yourself Afrikaans" was the first textbook I used when I began to learn the language. In its short 320 pages, it covers all the bases for beginner learners: useful vocabulary for everyday life and common conversation topics as well as a thorough overview of Afrikaans grammar.
Best of all, "Teach Yourself Afrikaans" is the cheapest option for an Afrikaans textbook. While its print version is around $65.00, it is available on Kindle at a fraction of that price. In my opinion, that's what makes this textbook the best bang for your buck on this list!
The lessons themselves revolve around real-world dialogues and readings as well as grammar explanations in plain language followed by exercises for practicing reading comprehension and grammar points. In just 20 short chapters, you can take your Afrikaans from zero to the intermediate level. Trust me: that's how I did it!
Another textbook for beginner learners is "Colloquial Afrikaans". Learners can buy a physical copy or download a digital copy for Kindle.
Unlike "Teach Yourself Afrikaans", "Colloquial Afrikaans" includes Audio CD or free mp3 downloads of its content. This is quite useful for hearing what Afrikaans actually sounds like and practice precise pronunciation. Further, "Colloquial Afrikaans" includes concise grammar explanations and useful vocabulary for beginners over the course of 17 chapters. Each chapter also includes grammar and vocabulary exercises for practice.
Best of all, if you're interested in only the audio portion of this textbook, you can buy the two 60-minute CD combo separately.
The "Complete Afrikaans Beginner to Intermediate Book and Audio Course" is perhaps the most comprehensive textbook in this list. It was developed by the "Teach Yourself" brand and includes 320 pages of authentic Afrikaans, vocabulary lists and grammar explanations. It also comes with 2 CDs of native Afrikaans audio.
Best of all, this textbook claims to take learners to the B2 level (high intermediate) by end of course. This would be a great option for those who want to learn Afrikaans quickly and see meaningful results.
The 17 chapters revolve around dialogues to introduce grammar and useful vocabulary. Comprehension and grammar exercises are also available in the textbook for added practice. The audio CDs can also be bought separately.
If you're looking for a completely free beginner's textbook, I have the solution for you!
I personally have used "Maskew Miller's Grammar of Afrikaans" for a bit of vocabulary building, and it's not a bad resource to use in a pinch. The only catch: this textbook is pretty old. In fact, it was published in 1921! As such, some of the words are outdated, but it has fantastic descriptions of Afrikaans grammar and usage.
---
---
Intermediate & Advanced Afrikaans Textbooks
If you have a basis in Afrikaans or you've studied Afrikaans previously, an intermediate-level textbook may be what you need.
For that, I suggest a textbook series that is called "Afrikaans Sonder Grense: Eerste Addisionele Taal" (Afrikaans Without Borders: First Additional Language).
"Afrikaans Sonder Grense: Eerste Addisionele Taal" is actually a series of levelled textbooks from South Africa, and they are used by real South African children when they study Afrikaans. Physical copies are pretty hard to get your hands on if you live outside of South Africa or Namibia, but lucky for you, the internet is your friend!
You can access online condensed versions of NINE "Afrikaans Sonder Grense: Eerste Addisionele Taal" textbooks thanks to OpenStax. The textbooks are sorted into grades going from Graad 1 (grade 1) to Graad 9 (grade 9). As you can guess, these nine textbooks correspond to the first nine grades of school, so they build in difficulty as they advance through the grades.
Be warned: these textbooks are completely in Afrikaans, so I suggest having a good base in the language before getting started. Further, once you have completely the 9 grades, there are other textbooks available completely in Afrikaans to grow your vocabulary.
Afrikaans Dictionaries
The advent of the internet has done wonders for language learners in the sense that dictionaries have become widely accessible. Even though Afrikaans is not included in well-known online dictionaries such as WordReference, there are still some great options for quick translations on- and offline!
Lexilogos offers 3 dictionaries for Afrikaans: an Afrikaans-English dictionary, an Afrikaans-French dictionary, and a monolingual Afrikaans dictionary. Lexilogos also other tools available such as a Dutch-Afrikaans word list, historical dictionaries, and resources for learning the language.
Majstro is the dictionary I use most often when translating to and from Afrikaans. It offers a pretty straightforward Afrikaans to English dictionary with multiple entries for each word to give you a complete picture of a word's translation. Further, you can also see translations of Afrikaans into other languages such as Esperanto.


10. Webster's Afrikaans to English Dictionary
The "Webster's Word Power Afrikaans to English Dictionary" is by far one of the most extensive print dictionaries with over 28,000 entries at a very reasonable price. Each entry shows the part of speech of a word as well as example sentences in some cases. The dictionary also tackles popular Afrikaans idioms and includes a short grammar reference.
Online Afrikaans Tutorials
In addition to a textbook or structured Afrikaans learning program, it also might be useful to follow some online Afrikaans tutorials. They can be a great language learning resource on their own, but with other resources, they can be a quick summary of a grammar point. They are also awesome resources for Afrikaans word lists!
When I first started out, I used ielanguages.com to learn the very basics of Afrikaans. ielanguages.com is run by Dr. Jennifer Wagner, and it has 20 very short tutorials on the basics of the Afrikaans language. These include primarily vocabulary lists and explanations on basic concepts such as pronunciation as well as grammar topics such as verbs, nouns and articles.
There are no frills and no comprehension exercises, but the tutorials are to-the-point and include some high-quality audio for pronunciation practice. ielanguages also has other language tutorials on (you guessed it!) other Indo-European languages. In fact, it is my go-to when I want the nitty gritty on a new language and I'm trying to decide if I want to commit to learning.
After I completed the tutorials from ielanguages, I followed the Afrikaans Course from Openlanguages.net. While Open Languages does not a full Afrikaans course in the sense that it includes a teacher or anything like that, it does have full and concise explanations of Afrikaans grammar as well as exercises to test your new Afrikaans skills.
This resource was developed by Dr. Jacques du Plessis from the University of Wisconsin Milwaukee, and it includes lessons on pronunciation, grammar topics, and vocabulary lists. Each lesson also has recordings of Afrikaans audio as well as listening comprehension exercises.
Further, Open Languages has an associated YouTube channel called Mister Afrikaans. There are dozens of videos uploaded to the account such as Afrikaans vlogs and short stories with transcriptions in Afrikaans.
Easy Afrikaans is another website I used when I was first starting with Afrikaans.  While it lacks true comprehension exercises, its concise explanations and word lists are useful for beginner learners. Further, the word lists have corresponding audio so you can perfect your pronunciation of them.
My favourite feature is the "Crosswords" section. Every time the heading it clicked, a new crossword is generated using Afrikaans words from the website. It's a great way to translate from English to Afrikaans and practice your vocabulary recall.
Learn101 offers language tutorials in dozens of languages, and they have a quite extensive resource for Afrikaans. The tutorials consist mostly of vocabulary lists with audio recordings, but there are also short tutorials on grammar topics with example sentences.
The strongest aspect of Learn101 Afrikaans is its "Exam" feature. After using the tutorials to learn new vocabulary and grammar, you can test yourself with a short multiple choice "exam". Further, the website also includes a top 500 word list for the most common Afrikaans words.
"Learn Afrikaans! Leer Afrikaans!" is relatively short in comparison to the other tutorials, but it packs a punch for learning a lot of the language in a short amount of time. Two lessons focus on an introduction to the sound of Afrikaans as well as common phrases and vocabulary. It also has word lists for animals, family, numbers, days of the week, and common objects.
"17 Minute World Languages" is just that: its tutorial takes 17 minutes to go through. It covers all the basics of Afrikaans such as greetings, numbers and introductions as has high quality recordings for each Afrikaans word or phrase.
Be cautious though! The language of instruction is Dutch. If you're familiar with Dutch, this is great: it gives you everything that's in common between Dutch and Afrikaans and what is different. Even if you don't speak Dutch, it's pretty easy to navigate the website.
If your 17 minutes has been fruitful, the website also offers a reasonably-priced Afrikaans speaking course.
"Afrikaans vir Reisigers" (Afrikaans for Travelers) is a collection of short tutorials. They include all the essentials for travelers, as the name suggests. These are primarily word lists with high-quality audio covering topics such as basic words and phrases, numbers, directions and places.
Online Afrikaans Video Lessons
No Afrikaans regimen is complete without a teacher. While they may be far and few between in your part of the world (as they are in mine!), there are some great teachers online, many of whom make Afrikaans video tutorials. Get your notebook and get ready to learn!
Best known for her YouTube presence and being an accomplished polyglot in her own right, Lindie Botes is a South African Afrikaans speaker who teaches her native language on YouTube.
Her videos include lessons that can be followed in chronological order covering topics as introducing yourself, school and work vocabulary, and grammar. She also creates vlogs completely in Afrikaans, and she even has an Afrikaans-only interview with fellow polyglot Alex Rawlings.
In addition to its main language learning platform, AfrikaansPod101 also uploads a lot of videos to its YouTube channel. These videos include basic topics such as introducing yourself, greetings, and ordering food. It also hosts many reading and listening comprehensions as well as livestreams for constant learning. If you feel so inclined, you can even learn Afrikaans while you sleep!
Teach Me Afrikaans has undergone a little bit of a change in the past few months, but it is a great place to learn basic and intermediate Afrikaans.
On the basic side, learners can get short tutorial videos on the alphabet and pronunciation as well as vocabulary related to food, animals, and colours.
For intermediate learners, Teach Me Afrikaans has complete vlogs in Afrikaans as well as in-depth vocabulary explanations for Afrikaans food, holidays, and slang.
Heinsuniverse hosts a playlist of 24 short video tutorials on beginner Afrikaans. Topics include basic phrases and asking questions as well as humourous topics such as "wooing that girl" (ie. flirting) and the African safari.
What resources have you used or do you recommend for learning Afrikaans? Have I missed some? Leave your thoughts in the comments below!

**Please note that I receive a small commission from certain affiliate links in this post. These links are AfrikaansPod101 as well as the textbooks and the dictionary available for purchase from Amazon.com**